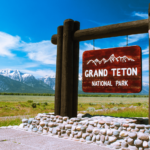 A medical examiner announced in a press conference Tuesday that Gabby Petito, the 22-year-old woman who vanished on a road trip with her boyfriend and later turned up dead in Wyoming, was killed by strangulation. The full autopsy results come more than three weeks after her body was found in Grand Teton National Park, whose mysterious disappearance during a road trip with her fiancé sparked interest nationwide. Teton County Coroner Brent Blue announced on Sept. 21 that Petito died by homicide, but further findings about her cause of death were not disclosed until Tuesday.
Petito and her fiancé, Brian Laundrie, embarked on a cross-country journey in July, traveling from Florida to New York in their white Ford van, then heading west. Petito documented their adventures on her YouTube channel and planned to start a blog. However in late August, Petito's mother, Nicole Schmidt, stopped hearing from her while she was staying in Grand Teton National Park. More than two weeks after their last conversation, Schmidt learned that Laundrie had quietly returned to his parents' Florida home without her daughter. Petito wasn't reported missing until Sept. 11, 10 days after Laundrie allegedly arrived back in Florida. On Sept. 15, he was named a person of interest in his fiancée's disappearance.
For the first several days of Petito's missing person case, investigators tried unsuccessfully to speak with Laundrie and his parents; the family's attorney instructed his clients not to speak. On Sept. 17, the Laundrie family spoke with the FBI for the first time, and investigators were informed that Laundrie himself had gone missing, launching a second missing persons case. As of press time, Laundrie has still not been located despite searches in a Florida wildlife preserve, where he is believed to have gone hiking on the day that he vanished. Authorities have yet to name a suspect in Petito's disappearance and homicide.