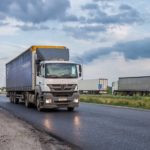 At least forty-six migrants have been found dead inside a tractor-trailer found near Lackland Air Force Base in San Antonio, TX, along with 16 others — 12 adults and four children — who have been taken to hospitals, local officials in San Antonio said on Monday evening.
The grim discovery was made late Monday afternoon, when Homeland Security Investigations (HSI) responded to a call on Monday regarding an alleged 'human smuggling event.'  According to officials, there was no working air-conditioning on the tractor-trailer, or water, and that those transported to hospitals were hot to the touch. The victims are suffering from heat exhaustion, the San Antonio Fire Department said.  Temperatures in San Antonio reached up to 100 degrees on Monday, per the National Weather Service.
San Antonio Police Chief William P. McManus said in a video posted on San Antonio Police Department's Facebook that that three people were in custody. He stated that they do not know if the three people in custody are absolutely connected with human trafficking, adding that Homeland Security Investigations has now taken over the investigation.
Editorial credit: Aisylu Ahmadieva / Shutterstock.com